Publica has achieved a Bronze Award for Carbon Literacy
---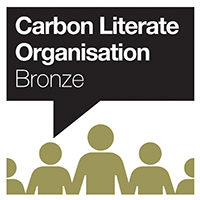 Publica has been accredited as a Bronze Level Carbon Literate Organisation, highlighting our dedication towards tackling climate change, reducing our organisational carbon emissions and our commitment to working towards a lower-carbon future.
What is Carbon Literacy?
Carbon Literacy is defined as, "An awareness of the carbon dioxide costs and impacts of everyday activities, and the ability and motivation to reduce emissions, on an individual, community and organisational basis," and revolves around a day's worth of learning and action on climate change.
How did Publica get involved with Carbon Literacy?
Publica Group first engaged with Carbon Literacy in the 2022-2025 Business Plan which states, "As part of moving Publica to net zero carbon by 2030 we will roll out Carbon Literacy training to our employees, aiming to be recognised as a Gold Level Carbon Literate Organisation over the term of this plan."
We are using the local authorities sector toolkit from the Carbon Literacy Project. Since June 2023 70 employees have attended Carbon Literacy workshops including 16 members of the Executive team who attended the Carbon Literacy for Leaders workshop in July 2023. Fifteen of these employees are now certified as Carbon Literate and the rest are working on their pledges so they can be certified as Carbon Literate.
What is a Carbon Literate Organisation? 
A Carbon Literate Organisation (CLO) is an organisation that has been accredited by The Carbon Literacy Project as being "culturally Carbon Literate", maintaining a substantial proportion of its workforce as Carbon Literate and demonstrating its Carbon Literacy through its organisational behaviour. CLO accreditation is a tiered system with bronze, silver and gold levels, requiring increasing levels of commitment to action on climate change and creating a low-carbon culture.
Roadmap of the journey to becoming fully Carbon Literate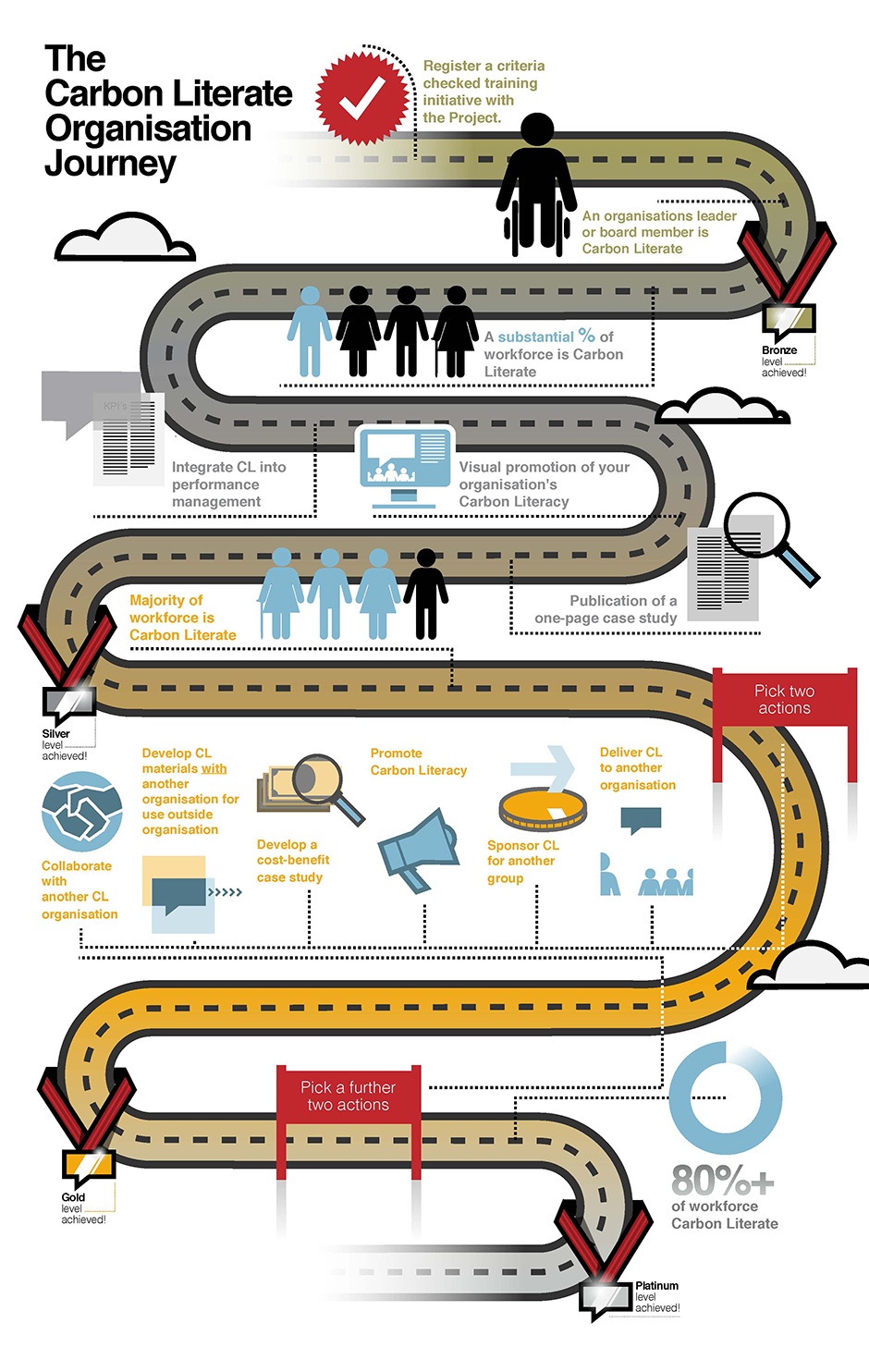 How has Publica achieved bronze level?
To become accredited as a Bronze Carbon Literate Organisation, Managing Director Jan Britton has attended the Carbon Literacy for Leaders workshop, done his pledge and been certified as Carbon Literate. Publica is already working towards silver CLO. To be awarded silver at least 15% of Publica staff need to be Carbon Literate, Carbon Literacy needs to be integrated into our performance management system and promoted on our website.
Jan Britton, Managing Director of Publica Group said, "This is fantastic news. The Bronze Award for Carbon Literacy is a tangible step forward on our journey to put carbon and net zero at the centre of everything we do. We have some way to go yet, but the bronze award is a mark of our commitment to reach gold by 2026." 
Dave Coleman, Co-Founder and Managing Director of The Carbon Literacy Project, said, "Carbon Literacy is an essential skill, vital to every workplace, community, and place of study. It is the foundational knowledge, and a catalyst to empowering people to act on climate, however, Carbon Literacy is only the first step. The actions taken and pledged by learners as part of their Carbon Literacy have an immediate impact within their organisation, however it is the maintenance of these and further actions, supported by Carbon Literate organisational culture, that reaps the greatest rewards for both participants and their organisations. By becoming a Bronze Accredited Carbon Literate Organisation, Publica Group has demonstrated its commitment to genuine low carbon action, environmental and economic impact, and the building of a low carbon future for us all."
---
Date Posted:
18 October 2023